Kaleidoszkóp International Festival of Poems
Kaleidoszkóp nemzetközi VersFesztivál
Kaleidoszkóp International Festival of Poems
One week's European Series of Events in Hungary - 12-16 November 2014
Summary of the project
Our proposal is for a one week's international poetry festival, Kaleidoszkóp nemzetközi VersFesztivál to be organised in 2014 November - every year more hundred performers from 5 countries and an audience of about 4,000 attend these events.
Our Association organises Kaleidoszkóp nemzetközi VersFesztivál every year, and in the past 15 years it has become one of the largest events of podium art in Central Europe.
The main aim of VersFesztivál is to provide HIGH-LEVEL CULTURAL ENTERTAINMENT, GIVE A VENUE TO GIFTED PERFORMERS, and to present gifted performers, groups and bands together so that they can exchange experiences.
Performers speaking Hungarian and foreign languages arrive to the VersFesztivál from Serbia, Slovenia, Ukraine, Romania, Slovakia, the Czech Republic, Poland and Austria.
VersFesztivál is UNIQUE/MATCHLESS in several areas. During the one week's "intensive" festival of art every element of the programme is based on poetry in a big competition. Several hundred Central European young performers animate written poems in several genres (e.g. reciting poems, poems as theatre performances, animated stage performance inspired by poems, poetry music, poetry-films, exhibitions illustrated with quotations and poems, etc.)

Expected results
The aim of the programme in the proposal is to narrow the gap between poetry and average people.
During the one week's festival the audience/participants get an insight into multicultural gifts produced by the fusion of several fields of art. Dramatic and performing arts, literature of prose, music, fine arts, film and music are represented in the programme.
With these unconventional methods of presentation we want to show that
• Literature and poems are not merely texts to be learnt and analysed in school, but forms of art expressing everyday feelings in a palpable way.
• Poets and writers are not special species, but ordinary people like any of us: they can cry and laugh, may be in love or face conflicts, and they can also put the feelings into words.
• Reciters, poets and men of letters are not only those who have already died and are in the encyclopaedia, but they are living ones, as well, and we can talk to them.
The world of people is colourful, everybody has his/her own taste and cultural demands/expectations, so different cultural events attract different people.
By making the programme of the festival colourful we want to address YOUNG PEOPLE who have so far not been interested in cultural events and poetry, and it is our aim to AROUSE THEIR INTEREST. We want to demonstrate that if a poem takes life on a stage, screen or in music, it can be modern and exciting, up to the expectations of the 21st century, and above all, it can be full of life.
Description of the project
Kaleidoszkóp VersFesztivál is the largest series of events of podium art in Central Europe, and its primary aim is to discover gifted people, support their development, strengthen the language and cultural links of young people within and beyond the borders, handle the consciousness of identity, and to create a separate system for the genres of poems on stage, in music and in films. VersFesztivál also aims to meet the demands of spectators in search for modern, up-to-date and high-level forms of entertainment without making the contents boring or outdated.
Kaleidoszkóp is a Festival of Poems, but it goes beyond the borders of poetry taught in schools, and opens up new vistas for the performing art. Through amateur and professional artists it COMBINES dramatic and performing arts, literature of prose and poetry, music and cinematic art. Using poems on stages, in music and films is an independent area of art, and it dates back centuries in Hungary - it is a kind of Hungaricum. However it is also universal as it aims to widen the culture of the world by taking the poetry to people by presenting poems in stage performances. The endeavour is following the proper direction which is attested by the fact that more and more Central European countries join the project.
Festival director: Imre Lutter artist, performer, producer, president of the Hungarian Association of Poetry Recital

GOALS:
• presenting poems in as many forms as possible
• presenting different areas of style for many people, and creating a real forum for professionals
• giving a venue for amateur and professional performers and bands to exchange their experiences
• building bridges of art between countries with different cultural traditions
• making the audience form a new and different idea of reciting poems
During the festival COMPETITION and ENTERTAINMENT are hand in hand. In the competitive part the BEST PERFORMERS and GROUPS of EIGHT COUNTRIES come to Hungary. Apart from reciting poems the competitive part also includes animated stage performances inspired by poems and modern branches of art searching for new ways: performances, street theatre performances, evenings of entertainment, monodramas, musical poetry which has grown into a separate form of art with poems sung and put to tunes, world music, fine arts through exhibitions of illustrations to poems and posters of poems, etudes, and the cinematic art with animated cartoons, short feature films and documentaries.
Entertainment has a major role in the programme of the festival: the goal is to attract many people and taking poems close to them with the help of noted and acknowledged artists.
VersFesztivál is UNIQUE not only because of its features of art, but also because professional and amateur groups, bands, performers and filmmakers take part together in elements of the competition, so they have plenty of opportunities to exchange their experiences.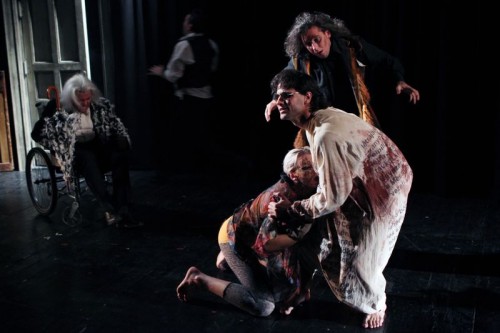 EVENTS OF THE COMPETITION:
1) THEATRE OF POEMS: stage performance of poems, monodrama with poems, performance, animated stage performance, workshop production, memorial evenings.
2) POEMS WITH MUSIC AND POEMS SUNG: orchestral accompaniment is not compulsory
3) RECITING POEMS AND PROSE: reciting classic and contemporary poems
4) FILMS WITH POEMS: short feature films of 5-10 minutes, and films of max. 30 minutes
5) EXHIBITIONS WITH POEMS: exhibitions of fine arts
The elements of the festival are selected and evaluated 8 months before VersFesztivál. Different professional bodies evaluate the productions nominated for the competition, received on DVDs or online. The best ones, performances and concerts get to the programme of competition of VersFesztivál, and another panel of judges composed of internationally acknowledged experts decide on their placement - the audience also has a right to vote on the Viewers' Choice Award.

RESULTS
Apart from providing entertainment and taking culture close to people we also want to use Nemzetközi VersFesztivál to present gifted young performers, groups, bands and poets, and to organise a contest for them. The Hungarian experts acknowledge the competitions of amateur and professional performers held within the framework of the one week's VersFesztivál. As the audience has several thousand members and the Hungarian television also broadcasts a series of the events, a really wide group can see the artists and performing groups.

For the Hungarian Association of Poetry Recital the event is a kind of contest of qualification: in every category acknowledged experts qualify the productions with gold, silver and bronze awards, and the performers may ask for their own professional qualification from the Chamber of Actors.
It is important to note that in the past years several "Kaleidoszkóp" prize-winners and winners of special awards at VersFesztivál began their studies at Hungarian and foreign universities of art.
Co-operating organizations (list with dates):
Magyar Szín-Játékos Szövetség (Actors' Association)
PEN Club
World Congress of Poetry
Official homepage of the event: www.versfesztival.hu
SCHEDULE:
Period of the proposal: 2014 April and December
Organisation, selecting the events of competition, screening, preliminary evaluation, organisation: 02.04.2014 - 12.10.2014
running the event: 12.11.2014 - 16.11.2014
INDICATOR FIGURES:
a) no. of beneficiaries: 300 participants, 4000 viewers
c) no. of co-operating partners in realising the project: 3
b) no. of press reports (local, national, international media): appr. 200

Transparency of the project and communication
VersFesztivál has a medium range marketing strategy and several plans of communication are made for certain elements of the programme. The purpose of the articles in the national and international media is: image building and making people aware of the festival. (Festival trailer: HERE)
The purpose of the articles in the local media: attracting audience. We communicate the event according to the schedule of the PR timing having been made by an own communication agency. Our press coordinator is in charge of organising the presentation of articles well in advance, along a transparent and coherent strategy, aiming the targeted readers - accordingly, information about the programme and the events is communicated purposefully, in line with the goals. The press coordinator organises the material for professional and informative papers, tabloids, radio and TV stations and websites separately, indicating the most important topics for them. We also have outsourced publicity activities in streets to disseminate leaflets of information during the festival and the week before it. For this purpose we use students and their payment is that they can visit the events free of charge.
Before the festival we make 50,000 piece of flyers (size: A/5), 1000 piece of posters (size: A/1), 5000 piece of programme sheet (type: fanfold), 1000 piece of invitation card (size: A/6) in two languages (Hungarian and English) for the promotion.
Also before the event start to run TV and radio commercials of the festival: in the international, in the national and in the local media too.
We have our own photographer on the site to take pictures for our official homepage and press agencies. Twice a day we send news in connection with the actual events of the festival with topics arranged in advance, according to an exact agenda. We have contracts with two press agencies and our media partners. Nevertheless it is our aim to attract as many newsgroups and journalists to the festival as possible. We have our own staff to make the documentation of video recording and provide the television stations and websites with pictures. All the events of the festival are available online, all over the world. The events can be watched later, as well. The Hungarian TV channel "Duna TV" which can be received in every part of the world, broadcasts the recording of the festival in two parts, one month after the event, and performances can be watched on the internet by Ustream embedded to the festival official site pending the event. (A short part of a previous TV-programme: HERE). We have a festival blog which is updating every day pending the festival: versfesztival.blog.hu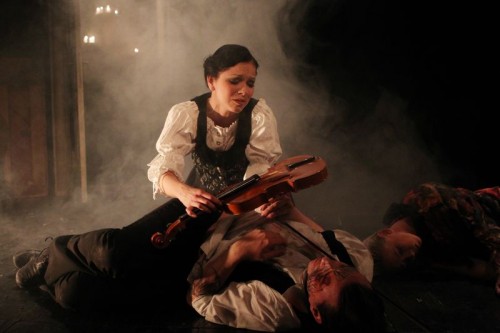 For the purpose of cost effectiveness and guaranteed availability we use community sites from the beginning: In the trailer and during the festival the marketing of the event is a type of guerrilla marketing: community sites (facebook, iwiw, twitter etc.) are used to encourage the potential audience for a detective game. Festival on the facebook: HERE
The online banner and pop-up window campaign call attention to the website of Kaleidoszkóp (www.versfesztival.hu - project summary in English: www.versfesztival.hu/english). Apart from the campaign of posters and leaflets we have on-air and off-air integrated publications (interviews, talks, reports of publicity) in order to present an image of the event. Abroad we mainly use online advertisements to make the festival known.